Free Online Recipes
Discover a variety of easy-to-make recipes for breakfast, lunch, and dinner with the Quick Recipe Hub extension.
continue
Access 1 million+ free recipes
Step 1

Type the name of a recipe into the widget
Step 2

Hit the 'Enter' button
Step 3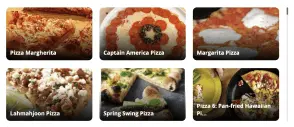 Click on a result to view the full recipe
continue
Here's what you'll get with Quick Recipe Hub:
Recipes by
Meal type

Breakfast. Lunch. Snack. Dinner.

Diet-friendly
Recipes

Balanced. High fiber. High protein. Low carb. Low fat. Low sodium.

Keto
Recipe Ideas

Option to choose from a variety of Keto-friendly recipes.

Options based on meal preferences

Vegan. Vegetarian. Kosher. Gluten-free.
Meal Ideas Across Cuisines

American. Asian. British. Caribbean. Central Europe. Chinese. Eastern Europe. French. Indian. Italian. Japanese. Kosher. Mediterranean. Mexican. Middle Eastern. Nordic. South American. SouthEast Asian.

Healthy Recipe Ideas

Alcohol-free. Celery-free. Crustacean-free. Dairy-free. Eggless. No fish. FODMAP-free. Kidney-friendly. Low potassium. Lupine-free. Mustard-free. No oil added. No sugar. Paleo. Peanut-free. Pescatarian. Pork-free. Red-meat free. Sesame-free. No shellfish. Soy-free. Sugar-conscious. Tree nut-free. Wheat-free.

Options by meal course

Bread. Cereals. Condiments and sauces. Drinks. Desserts. Main course. Pancakes. Preps. Preserve. Salad. Sandwiches. Side dish. Soups. Starter. Sweets.
Get easy access to food recipes
All third-party names (including company and service names), celebrity names and images used here are trademarks, registered trademarks or properties of their owners.Use of them here does not imply any affiliation with or endorsement by their respective holders.